I'm constantly urging nonprofit professionals to get out of their familiar comfort zones.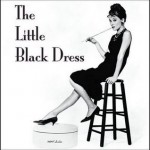 It's an issue everyone deals with and struggles to overcome.  But unless you get out of your comfort zone, the reality is that you won't make breakthroughs in your lives, your careers or even … fundraising.
You simply can't coast through life if you want to be the best you possible – or if you truly want to change the world.
And yes, this goes for me as well.
I was reminded of this a few weeks ago when I was in NYC with my significant other for the weekend.  I always stop by the wonderful boutique co-owned by his sisters.   Meeting these two lovely ladies has been akin to having a personal stylist.  By now they know my every curve and they know what works and what doesn't.  Whatever look they send my way – and they have dressed me in clothing ranging from a size 2 to a size 10 – looks utterly smashing and it's been a relief to put myself in their hands.
Still, when one of the sisters handed a black leather dress over the dressing room door, I said "NO WAY!" I held firm and refused to even try the dress on.
Oh I had my reasons:
"I've never worn leather!"  (Okay, shoes don't count.)
"It's too short!"
"I'm too old to wear a black leather dress!"

In short, it was simply not me.  But this stubborn little lady insisted that I was not going to leave the dressing room wearing anything but that little black leather dress and so, over my head it went.
Whoa mama!
In this little black leather dress I was transformed from a suburban flip-flop wearing work-at-home mom to a sleek temptress!
It's hanging in my closet right now, just waiting for the right occasion …
So my little reminder to you – make a list of things you'd like to do and try exploring the creative side, your adventurous side, your romantic side …
Try a food you've never tried before.  Take a wine-tasting class.  Join Toastmasters.  Take salsa dancing or a ballroom dancing class.  Ever tried yoga?  What about jumping out of a plane?
And if you're wondering what this mild rant has to do with nonprofit marketing and development work, do yourself a favor.  Instead of taking yet another pedestrian AFP workshop or reading the latest fundraising tome about the newest tools:
try exploring the psychology of persuasion via Kurt W. Mortensen or Robert Cialdini
learn from direct marketing gurus like Denny Hatch or Frank Kern or Yanik Silver or Dan Kennedy
take an internet marketing seminar or a creative writing workshop
spend a day in the field with your program directors
answer the phones (trust me, you can learn a great deal – and learn it quickly – by answering an organization's phones)
pay a surprise call on a donor to say thank you
challenge yourself to come up with five distinct new stories for your organization
challenge yourself to come up with 10 different headlines for your next appeal (you don't "do" headlines?  Read Caples "Tested Advertising Methods" to learn why you should)
Be bold!  Be fun!  Shake things up!
Good donor communication takes guts.  It takes style. Try some in your personal life and watch it carry over.