Overcoming Your Grantwriting Fears
November's Nonprofit Blog Carnival is here and it's being hosted right here at Pamela's Grantwriting Blog!
What is a Nonprofit Blog Carnival you ask?   With a tip of the hat to Big Duck:
If you're a blogger, here's how it works:
Write a blog post that relates to this month's theme, or sift through your recent posts for one that fits the bill.
Submit your permalink to the Nonprofit Blog Carnival, or just email it to nonprofitcarnival [at] gmail [dot] com) by Friday, November 26.
Visit Pamela's Grantwriting Blog on Tuesday November 30, and eagerly hit "refresh" until the carnival goes live to find out if we've included your post.
If you're a reader, here's how it works:
Visit the Pamela's Grantwriting blog on Tuesday, November 30, and eagerly hit "refresh" until the carnival goes live.
The nonprofit carnival is a great opportunity to drive traffic back to your own blog, so we hope you'll submit a post and tell all your friends to do the same. We're most likely to include posts that are recent, easy to read, and (at least loosely) related to theme.
So what is this month's Carnival Theme?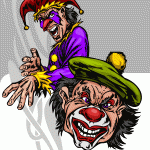 Grants can make a huge difference to your organization's bottom line.  I've worked with organizations that derived over 80% of their annual budget from grant funds and, while I definitely recommend a more diversified approach to funding, there's no denying that grants should play a role in your organization's funding base.
Yet fears of the whole process prevent many organizations from even getting started on a grants system.  Fears about approaching new foundations, fear of rejection and facing a blank page were near the top of the list when I polled my readers about what's preventing them from applying for grants.
What fears do you have about applying for grants – and how have you overcome them?
Here's a sample post of my own to get you started: Be a fearless grantseeker.
Get your posts up by November 26!
If you're still wondering what this Blog Carnival is all about, check out Joanne Fritz's article What The Heck Is a Blog Carnival?