Almost every nonprofit I look at makes one classic faux pas.  They believe that it's an inconvenience, an intrusion, a nuisance, a mistake to communicate frequently with their donors (or prospective donors).  They don't want to "bother" them (or, let's face it, they're lazy and can't be bothered with the bit of extra work it takes to keep in touch).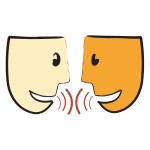 And yet, donors are our friends.  You wouldn't call upon your friends once a year only to ask for money would you?  Imagine it.  In fact, when you put it that way it's downright rude. Yet that's what many nonprofits do.
If we're engaged in true relationship fundraising, communicating well and communicating often is key. Start at the first gift – create heartfelt welcome packages for your new donors.  Start at the first indication of interest – say signing up for your organization's email newsletter – with a series of two to five evenly spaced enthusiastic welcoming emails.
Note that I did say "communicating well."  As Tom Ahern says "What are the best secrets? Be different. Be fun. Be authentic."
By establishing a consistent pattern of communication of a minimum of twelve touches a year (I know, I know "Twelve??? But that's too much!" Just do it.) you're conditioning your donors and building lasting relationships.