I loved this recent heartfelt Thanksgiving message from one of my clients:
"Our family's most treasured Thanksgiving tradition is simple, yet powerful. Around the table we go, each person, regardless of age, names a special experience or individual for which he or she is thankful.  There are obvious reasons for gratitude.  Sometimes we are surprised when appreciation for things taken for granted is revealed.  Then comes the deep and unexpected gratitude.  It's always astonishing to experience how emotional giving thanks can be – how giving thanks touches souls, even the youngest of souls.  Each year our experience demonstrates that giving thanks must be one of the purest forms of prayer."
Thanksgiving is a time for gratitude.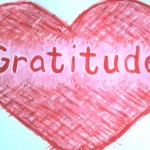 But what if every day was a day for gratitude?
On New Year's Day I made the decision that gratitude was going to be my mantra for 2010.
It's not always easy. I'm not perfect. Life intervenes.
But what I have noticed is the direct correlation between how much gratitude I feel during any given day – and how that day goes.
What am I grateful for?
I've got two wonderful daughters. They're funny, unique individuals (natch!) and I love the way that they're navigating their individual worlds.
I've got an amazing partner, coach and best friend. He never fails to jump-start my idea processes and pull my thoughts together.
I'm grateful that I inherited some of my Grandmother's mid-western common sense. It's enormously helpful in seeing the truly "simple" solutions to oftentimes complex problems.
I live in a wonderful home, close enough to walk to the train and be in Philadelphia in 20 minutes or stroll to Trader Joe's or Whole Foods for my groceries – yet nestled in the midst of some pretty extraordinary nature and near my favorite running trail.
I've got a growing business that's allowing me to help more people than I ever dreamed possible.
I'm grateful to serve a number of wonderful clients accomplishing a diversity of good in the world, from feeding the hungry to educating future leaders to energy conservation and more.
And it blows my mind the number of fantastic connections I've made via social media. Wonderful, generous, scathingly brilliant people I'm privileged to know.
So, yes, I am grateful.
What are you grateful for? Like most Americans you'll be thinking about it a lot today. From here on out, try making gratitude a daily habit. Make up your mind that you're not getting out of bed in the morning until you've thought about at least five things you're grateful for.
Try it for a month. I guarantee you'll see a difference in your outlook.