Thanks to all the wonderful bloggers who submitted posts for November's Nonprofit Blog Carnival!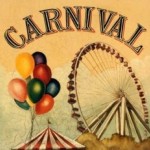 This month's topic focused on how to get past your grantwriting fears.  We all know that grants can be a huge boon to nonprofit organizations, as long as you've got the right approach and recognize that winning grants is a process – not an instant solution.
So join me now as we explore how to get past your own grantwriting fears …
Veronica Robbins, AKA The Grant Goddess, explores how fear can be paralyzing and keep an organization from it's mission in Fear Freezes Everything – Even Grant Writing.
You'll enjoy an insider's perspective on how to respond to RFP's from noted consultant, author and speaker Nedra Kline Weinreich in an Insiders Guide to Writing a Winning Proposal.
My good friend, consultant, coach and author Sandy Rees addresses a topic that scares quite a few of us – and is so rarely addressed: how to put together your grant budget.
Jake Seliger of Seliger + Associates notes that myths have grown up around grants owing to some unscrupulous practices and advises readers to Learn How Things Work Including Grants and Grant Writing.
Friend, noted speaker, consultant and author of Fired-Up Fundraising: Turn Board Passion into Action, Gail Perry shares her Five Tips for Overcoming Fundraising Fears.
I share my own success story about picking up the phone to call a foundation that had rejected my organization's proposals three times (Yes, three times!) in How to Be a Fearless Grantseeker.
Joanne Fritz from about.com's Nonprofit Guide shares her very first experience with grant proposal writing, along with some timely reminders that show that cultivating foundation funders isn't all that different from building relationships with individual donors.  Check out Grant Writing for the Unprepared.
Fundraising consultant Amy Eisenstein advises us to Call Foundations First: Win More Grants!
Now, go forth fearlessly into the world of grantseeking.  And don't forget the Nonprofit Blog Carnival Wants Your 2011 Resolutions!
---
Looking for foundation grant funding for your organization? 
Five Days to Foundation Grants
and my grants system is on sale for a limited time only. 
Grab yours now!