You know you need to thank your donors promptly.  You know that it costs more (as much as 10 times) to bring in new donors than to retain your current donors.
But beyond thanking 'em how do you create that special relationship with a donor?  How do you go from interest and mild liking to full-fledged commitment?
And should you even care?
The First Annual Donor Commitment Report released today by DonorVoice identifies a math-based method of measuring and improving donor attitudes.  What's more, they've found that moving your donors from low commitment to high commitment increases the lifetime value of a donor considerably.
How much?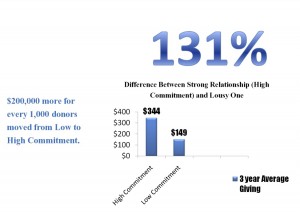 The seven key drivers?
Effectively trying to achieve the mission
Knowing what to expect from the organization with each interaction
Timeliness of thank you's
Providing opportunities to make views known
Providing a feeling of being part of an important cause
Providing a feeling of involvement and being appreciated
Sending information showing who is being helped
The report includes a "Key Driver Idea Bank" certain to set your creative juices flowing.  One thought?  Invite champions to write your appeals.  Scathingly brilliant!
Check out the First Annual Donor Commitment Report on Slideshare to learn more about the seven drivers of commitment, along with key ideas you can begin implementing today.