Never underestimate the power of a few committed people to change the world. Indeed, it is the only thing that ever has.
Margaret Mead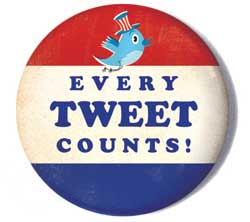 I've been on Twitter now for several weeks and I LOVE IT!
It's been a boon to my business in unexpected ways, it's fun, it's fabulous connecting with people from all over the world with such a wide range of interests and it's … more than a little bit addictive.
I've only recently noticed #charitytuesday, which appears to be the day out of the week when my fellow tweeters post shout-outs drawing attention to their favorite charities.
I love that concept and thought that I'd like to go one step further. Especially considering the state of affairs of nonprofit organizations these days.
According to the Philanthropy News Digest, "one-third of Bay Area nonprofits are worried they may have to shut their doors by the end of the year, while 34 percent report they have two or fewer months of operating expenses in reserve."
Smaller nonprofit organizations, in particular, are feeling the crunch.
Therefore, I'm unofficially partnering with #charitytuesday and declaring every Tuesday, beginning with tomorrow, June 2, #twenty$tuesday Day on Twitter.
Hey, we can all spare $20 for a good cause, right?
And just think of the viral ability of Twitter to multiply those individual $20 donations!
It boggles my mind!
So how can you participate?
Start by retweeting this Tweet and blog post.
Then, every Tuesday, simply decide on a worthy cause (it would be nice to highlight a smaller, struggling nonprofit), make a donation of $20, create a link to their donation page, use the hashtags #charitytuesday and #twenty$tuesday and blast it out to your followers!
Hint:  If you use BudURL as your url shortener, you can track clicks!
I think social media can be a boon for everyone, including nonprofits!
Won't you join me in spreading the word?
Like this article? Hate it? Tell me your thoughts!