Today's guest post comes from Marti Fischer of Marti Fischer Grant Services, LLC
Are you a member of a development office that is fully integrated into your organization, and part of programming and long range planning meetings? If so, congratulations and read no further, this article is not meant for you. This article is for the vast majority of development staff who has a back office and is expected to conjure up the funds to run your organization's programs.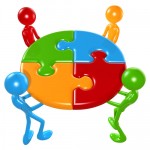 Why is integrating programming and development staff so important? Brian Reich in his newest book, Shift and Reset: Strategies for Addressing Serious Issues in a Connected Society, gets to the heart of the matter, 'Funders want wins, not tries.' The funding world is competitive. Organizations need to solicit fresh perspectives and to create a holistic and organic approach to serving their mission most effectively. Breaking down internal silos and promoting partnerships between departments allows for a freer exchange of ideas and a better understanding of the larger issues that impact an organization's sustainability.
So rather than focusing on WHY this trend is so prevalent, let's focus on HOW to better integrate the development and programming functions. Typically, development staff intersects with program staff at events and at meetings with major donors. More frequent contact and communication between development and program staff members will help to create a more efficient and targeted organization. The goal is to create a true partnership between the program and development functions. Here are some ideas to create a better-integrated organization (and make your job easier!)
Share: Invite program staff to a development meeting to discusses current and prospective grants and current trends in funding. Likewise, request that development staff be present in program planning meetings. Synergies are likely to arise between funding opportunities and program direction.
Involve: When writing grant proposals, ask program staff for their comments about the need and efficacy of the program. They will feel more involved and therefore more invested in the outcome of the proposal.
Communicate: The development department can help program staff develop better programs. Ask program staff members for their opinion about what could be better executed within a program. In many instances funders are able to suggest partners to enhance program execution or consultants to assist with organizational structure.
Set a Time Limit: Everyone is busy and overworked, so set a limit of 30-45 minutes for all meetings. Include an agenda with time limits on each section. Any in depth follow up can be done by email.
Serve Food: A sure fire way to get high attendance at meetings.
The programming and development functions are interdependent and need each other to survive. More effective communication and an open forum for the sharing of ideas will create a healthier and more vibrant organization, and will make your job substantially more enjoyable.
---
About Marti Fischer
Marti is the principal at Marti Fischer Grant Services, LLC in Weston, CT. She works with nonprofits on organizational, messaging and fundraising development. Marti can be reached through her website at www.mfgrants.com.