Community Foundations are a great barometer for what donors are looking for when deciding which nonprofits to give to.  In today's Movie Monday's video, Mark Hurtubise of the Inland NW Community Foundation talks about the shift from need to outcomes.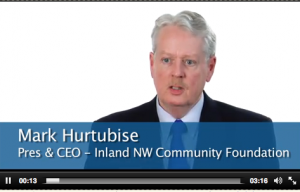 Do you have a strategic plan?
Do you have 100% board giving?
What are your outcomes?  Where's your impact?
Remember, donors see themselves as investors.  What kind of difference are they making…through you?