Today's guest post comes by way of Mary Cahalane. Mary is Development Manager/Individual Giving for Riverfront Recapture, a nonprofit organization dedicated to "leading the effort to reconnect metropolitan Hartford with the Connecticut River and provide community access to the waterfront through four beautiful parks in Hartford and East Hartford." Mary has learned the value of listening to her donors by way of surveying and shares some of her tips.
---
I have just mailed my second donor survey, and I'm pretty excited. I thought I'd share with you why I've added these to my calendar, and why I think you might want to as well.
Two years ago I was looking for a new way to reach out to our supporters. Like almost every other nonprofit, the down economy was taking its toll on us. We made a conscious decision to focus on donor relations and stewardship. (Retention matters!) My organization is fortunate to have a core group of long-time donors – many who have given for more than 20 years now. We wanted to be sure they knew how much we appreciate them.
I turned, as I often do, to the wealth of knowledge shared online. Jonathon Grapsas had written several posts about donor surveys that made so much sense. I had to try it!
(You can find Jonathon's original posts on survey here: http://jonathongrapsas.blogspot.com/2009/01/surveys-part-one-five-reasons-surveys.html, and also in SOFII's collection here: http://www.sofii.org/node/420  I urge you to read it all).
I was looking at this survey as an engagement tool. I knew its value would be more anecdotal than statistical. But the data I could collect seemed particularly useful because we don't have the opportunity to meet many of our supporters face to face. We really needed a way to get to know them better.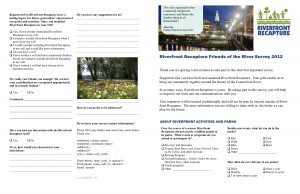 So I thought about what I wanted to learn – and tried to think through how best to get that information in a way that I could use it. I balanced curiosity against pragmatism and privacy. And I tried hard to keep the survey focused. (Say "survey" and watch how many people want to add a question!)
The first time, I put the whole thing on one sheet of legal-sized paper (both sides). I personalized each survey – both to insure I could tie responses to the right people and to underline that we really wanted to hear from each individual.
We sent the survey to all of our current donors, and to a smaller segment of recently lapsed donors.
I included an appeal with the survey, so that the mailing did double duty. Historically we had become heavily dependent on December gifts – scary stuff, really, for an organization whose budget runs on a calendar year. I had been working to move giving up in the year. The March mailing asked our supporters to return the survey with either a gift or a pledge of support. We explained that their gift, received near the start of our year, would give us a better idea of what to expect, and allow us to make better plans – making better use of the funds they entrust to us.
The first survey was both successful and a whole lot of fun. For me, it was a little like getting letters from old friends in the mail every day – each returned survey was full of interesting information about the supporter, personal views and great anecdotes. In other words, a treasure trove. We had a 23% response rate and an average gift that was above average.
This year I set out to do it again. But as our supporters have been so loyal, and I'd be writing to mainly the same people, I updated the survey to reflect what we had already learned.
I added some questions as follow-ups to what we had asked the first time. For instance, responses to the first survey helped me see that a donor newsletter would be a good idea – and that it ought to be a mail, not email piece. So in the second survey, I asked for responses about the newsletter and whether it was serving their needs. And I promised to use the next newsletter to share our findings with them.
I'm continually eager for anecdotes and stories from our supporters, so I left more room for open answers instead of check-boxes.
And I changed the format – printing it on an 11×17 sheet of paper so that I had room to use a bigger font and more pictures. Our base, perhaps like yours, is getting older, and I didn't want this to be a struggle to read. And pictures tell our story well. I wanted our supporters to have visual cues right in front of them as they answered. I also organized the questions into sections to make it easier to read.
I hope this survey generates as positive a response as the last one did. I see it as a really useful tool in what should be a continuing conversation with our supporters. And a good conversation, of course, is two-sided.
So with huge thanks to Jonathon, from whom I borrowed heavily, I'll be eagerly awaiting responses next week. And when I get them, Pamela has kindly allowed me to share with you what I've learned.
Note: I asked Mary what some of the responses to her survey were.
The question in 2010 that gave us the most open answers was "when did you first support Riverfront Recapture – and why?" It was the why of course that led to responses like:
"Because we wanted to improve both sides of the river so people could enjoy being near the water."
"Because nature is in my soul.  I love observing nature and season changes…"
"I believe in making Hartford a vital, interesting city.  Parks are important to a city."
"Because I think it is the best thing to happen to Hartford in many, many years – getting people back to the river."
One woman told us about hearing river stories from her dad, who used to take dates out in a boat on the CT River. She used our parks, and her grandkids joined our rowing program. (We offer the program free to East Hartford and Hartford high school students). Later, I used her story for one in a series of email stories seeking support.
We asked about what people found most important about what we do – I've marked those responses, and they should help us target our messages in the future. We also asked about what they attend, and we track that now as well.
One interesting thing I found in 2010 was that a lot of our most loyal supporters rarely or never come to the parks themselves. They just believe in the mission and feel it's important for the community. It's totally not about what's in it for them. (Bless them).