Before I became a fundraiser in 2000, I spent nearly seven years working for a regional grantmaking foundation.
When I came on board, the foundation had only recently transitioned from a casual, privately run organization with the founder and his wife sending out checks to their beloved charities to an organized grantmaking entity.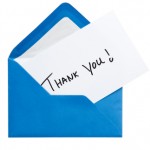 There were growing pains during those early years.  I well recall the delighted surprise of  organizations who received more than they had requested in their grant proposals, thanks to the luck of good timing.  You see, their requests had come in near the close of our fiscal year and we had discovered that we had not expended the five percent requirement.  Private foundations are required by law to distribute an amount each year based on five percent of the average value of their net assets.
I also saw and participated in the hours of research, discussion, and tweaking that went into establishing initiatives, program areas, and grant application guidelines.
Most of all saw how seriously everyone in the foundation took their roles – to the founder's mission, and to the community – and the care that went into reviewing grant proposals.
Giving is a joyful experience – and we received many expressions of gratitude.  But it was rare that an organization took the time to thank a foundation for their review when a proposal was declined.
What a missed opportunity!
Establishing a solid base of foundation support for your organization will take time.  Many of the books and courses talk about how to pen the "perfect" grant proposal.  But, in the end, it's a relationship-building process.  By neglecting to show appreciation for the review process, even when you didn't get that grant, you're missing out, not just on the grant but on the boat as well.

---
Wondering how your organization can begin to grow relationships with foundation grant funders?  Learn insider secrets with Five Days To Foundation Grants, my ebook and toolkit, now on sale!