We all learn differently.
My daughter, Samantha, is a visual learner and an avid reader.  She has always learned best by reading.  My other daughter, Abigail, on the other hand, has never cared for reading.  She learns best in the classroom or a one on one setting and has always appreciated audiobooks.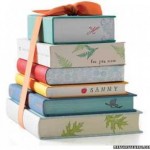 I must confess that it's rare that I've attended any grantwriting workshop or "how to" seminar for development professionals where a light bulb has gone off in my head and I couldn't wait to get back to my office to implement the new strategies presented.
One notable exception was the Donor Centered Fundraising course given by Penelope Burke.  She is a masterful presenter and I was busy jotting down ideas throughout her workshop.
But, whether you're like me and you've attended countless grantwriting workshops and read enough nonprofit "how to" guides to fill a small library, or you're a novice development staffer looking for a way to weed through all the grantwriting advice out there, it helps to have a list of the essentials.
I can't stand time-wasters.   I'm also a firm believer in exploring outside the oftentimes staid and insular world of traditional "nonprofit" marketing.  The following reference books feature cut-to-the-chase, crème de la crème of nonprofit development advice, culled from over fifteen years of reading and attending workshops and seminars:
Grant Proposal Writing
How to Write Knockout Proposals: What You Must Know (And Say) to Win Funding Every Time
by Joseph Barbato. Approaches grantwriting from the perspective of the funder.  You'll be amazed that all the information you need to craft compelling grant proposals is contained in this slim volume.
Storytelling for Grantseekers: A Guide to Creative Nonprofit Fundraising

by Cheryl A. Clarke. After years of reviewing grant proposals for a grant making foundation, I came to appreciate the storytelling approach. Learn how to make your reader care enough to fund you.
Five Days to Foundation Grants. This is my own self-published book, written after spending six years reviewing proposals for a grant-making organization and six years writing grant proposals. It is the quintessential resource for new development professionals, teaching you everything you need to know to research foundations (without expensive subscriptions) and how to write to target the foundations you are approaching. Comes with a separate book of sample funded grant proposals as well.
Annual Appeal Writing and Campaign Development
Direct mail will never die and to master this medium, you'll be best served by any book by Mal Warwick. I recommend Revolution in the Mailbox: Your Guide to Successful Direct Mail Fundraising (The Mal Warwick Fundraising Series)
by Mal Warwick for the ultimate primer on running a successful annual appeal.
So sue me for putting a Dan Kennedy book on this list.  Years ago, when I was designing my first ever direct mail appeal I used the lessons from Kennedy's The Ultimate Sales Letter: Attract New Customers. Boost Your Sales.  You know what?  If the campaign hadn't been wildly successful I wouldn't be recommending this book here.
Donor-Centered Fundraising
Smart businesses know that new customer acquisition is very expensive. Most businesses can, instead, at least double their sales without adding a single new customer. The increases are readily available within their own present and past customer base. Donor-Centered Fundraising
by Penelope Burke offers an extension of that sage marketing advice for the nonprofit world.
Even seasoned nonprofit professionals tend to pay more attention to their "top donors" – those rarefied individuals who may have lately given $10,000 – while ignoring their long-time loyal donor base, many who have been giving $25-50 over a period of twenty to thirty years.
Penelope tells you why.  Tom Ahern shows you how – eloquently and simply – to pen truly donor-centered materials.  Both Seeing Through a Donor's Eyes: How to Make a Persuasive Case for Everything from Your Annual Drive to Your Planned Giving Program to Your Capital Campaign and The Mercifully Brief, Real World Guide to… Raising More Money With Newsletters Than You Ever Thought Possible will enrich any fundraisers library.
Internet Fundraising

Fundraising on the Internet: The ePhilanthropyFoundation.org's Guide to Success Online, 2nd Edition
by Mal Warwick
According to Convio's latest Nonprofit Benchmark Study, online giving grew in 2009 by 14 percent – despite the economy.  Like anything tech-related the smaller nonprofits seem to be 10 years behind the times.  Yet what better way for the small, resource-strapped nonprofit to truly build relationships with donors than via email marketing and online giving?  Get on the stick!
The Audacity to Win: The Inside Story and Lessons of Barack Obama's Historic Victory Obama entered the Presidential race with an entire news network out to get him with lies and innuendos and, largely through his masterful use of the Internet, emerged victorious.  A must read.
Career
I was fortunate to receive an advance reader copy of Rosetta Thurman's How to Become a Nonprofit Rockstar and was blown away, first off, by Rosetta's personal story, secondly by her meteoric rise, and lastly by the solid steps Rosetta and Trista outline for charting your own career path.  Not for merely the young nonprofit professional, How to Become a Nonprofit Rockstar is a boon to us "starting over" boomers too.  Highly recommended.
Miscellaneous
Linchpin: Are You Indispensable? by Seth Godin.  We are at the cusp of a major turning point.  The staid methods you're probably familiar with won't work anymore.  It takes more.  A sense of purpose.  Transparency.  True engagement.  Art.  Do you have what it takes?